Jewelry comes in all shapes, sizes and stones, but one piece that continues to trend well with women are diamond bracelets. This piece is one that she can wear with pride, adding a distinct bit of elegance to her wrist no matter where she goes. From the tennis court to a gala, a woman sporting this piece of jewelry will instantly look chic, trendy and stylish. If you are in search for the perfect gift for the special woman in your life, consider this as a way to give her something to wear that will always make her think of you.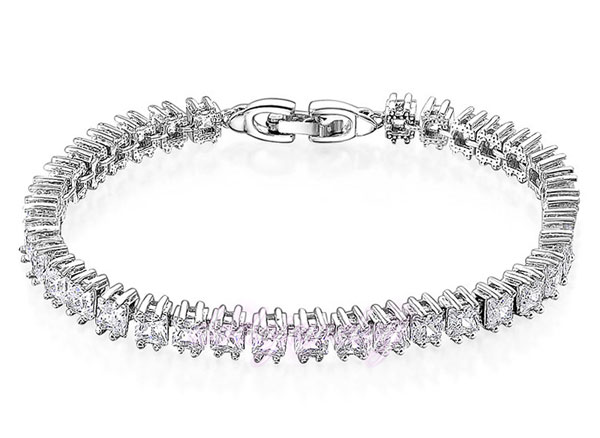 As you select the perfect bracelet for that someone special, here are three factors to take into consideration as you make your choice.
1. Design
The design of the piece should reflect the personality of the recipient. If your special lady likes simplicity, choosing a clean design may be the best option. However, if the special recipient is a lover of opulence and glamour, you may want to opt for something a bit more bold and unique. These pieces come with one large stone, a string of smaller stones or any other design in between, giving you a lot of options to choose from.
2. Style
From a tennis bracelet—a name made famous by tennis player, Chris Evert, who wore the jewelry while playing and stopped a game once just to retrieve this important piece—to charms, there are a number of styles to choose from. This again should be decided based on the preference of the recipient. To get an idea of what she would love, consider the jewelry she wears most regularly and choose a style that fits that look.
3. Cut
This refers to the stones in the piece itself. These can come in a variety of shapes and sizes, just like in a ring. If you are looking for simple, charming beauty, consider many small stones. However, if you want something more extravagant, choose a stone that is larger and will sparkle more.
A bracelet is a perfect gift to show your love, affection and adoration of a girlfriend, wife, mother, sister or any other special woman in your life. With hundreds of options to choose from, select a design, style and cut that will match the unique taste of your recipient, and you are sure to please.
Browse online today to get a better idea of the options available to you, right in the comfort of your own home!
Related post:
How to Choose Charms for Bracelets