Microfiber What are Its Uses?
Microfiber is a synthetic fiber that is thus named because it is made up of microscopic threads. Consequently, this fiber tends to be very thin and lightweight. In addition to these qualities, it is also highly absorbent, durable and can be easily woven into a variety of shapes. Qualities such as these have earned it the moniker of wonder fabric and 21st century fabric.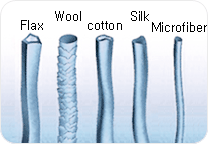 Microfiber finds a lot of applications in a variety of industries. It is used widely in sportswear because of its absorbent qualities and durability. You may have seen jerseys and undershirts made of this material. Since microfiber breathes like cotton, it also helps keeping the skin cool something other synthetic materials such as polyester fail to do.
Microfiber is also finding a lot of uses in the furniture industry. You may have seen microfiber sofas and couches at your local furniture store. This fabric is wonderfully soft and very easy to clean, making it an ideal material for making covering furniture. As said before, its durability makes it very desirable in this function.

Microfiber also works great in bedding material, sheets and pillow covers. It is wrinkle resistant, has a soft texture and can be easily cleaned (it is machine washable, unlike some of the other new age fibers). Microfiber is a very low maintenance material when compared to something like cotton, which creases easily and lacks durability. This fabric also has a natural luster which adds to its feeling of richness.
The biggest disadvantage of microfiber is that it is a bit on the expensive side. Although new technology is fast eroding this flaw, this fabric still remains on the higher side of the price scale, placing it beyond the reach of the budget conscious buyer. However, if you do your market research properly, you can still find some great deals on some great microfiber furniture, bedding and sheets.
Microfiber Towels
Microfiber towels are made up of synthetic polymer fibers that are several times finer than a human hair. This lends them an amazing capacity to absorb and hold water, dirt, grime, etc. As compared to a strand of cotton, microfibers are extremely fine.
Most microfiber towels are made of polyester or nylon. These have an affinity to oil as well as water. Therefore, when a microfiber towel comes in contact with water or oil, it clings straight to the fiber, making cleaning a lot more efficient and thorough.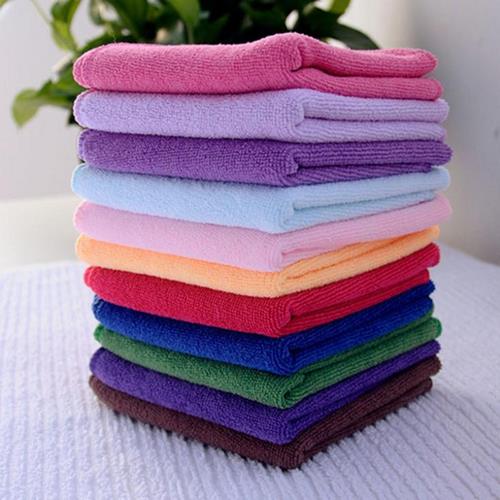 The microfibers are crafted in such a way that any dirt or grime gets stuck in the fine wedge shape of the fibers, making them excellent for cleaning around the house, or for use in towels or mops.
When it comes to choosing between cotton or microfiber towels, the latter is an automatic and obvious choice, outperforming the former by a large margin. Unlike cotton, which is susceptible to shrinkage, stretching or tearing, microfibers are extremely strong and retain their shape despite heavy use. Moreover, a microfiber towel is also resistant to wrinkling, abrasion, or any chemicals. It can also be washed like any ordinary cloth with just a bit of water (no detergent required!). When it comes to water holding capacity, various studies have concluded that while cotton can absorb 70% of the moisture, microfiber can hold up to 98% of the moisture from a surface.
From an economical point of view, microfiber cloths/towels can last for years. If you use any cleaning fluid in your household, you can cut down on its usage by up to 90% by using a microfiber towel. While the upfront costs might be more than any ordinary cleaning cloth, in the long run, you will only end up saving a lot of money and time by investing in a microfiber cleaning towel.