Christmas is one time when almost everyone goes a little crazy with decorating. (Unless Scrooge lives at your house.)  It is easy to spend more than your budget on decorations.  But luxury Christmas decorations can be yours if you plan ahead, decide on a theme and colors, shop wisely, and make the time to put everything together.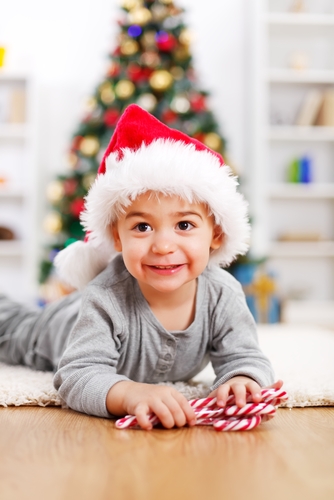 Planning your Luxury Christmas Decorating
The Look
As with any decorating project, luxury Christmas decorations can be had if you know what you want.  If you don't know exactly how to get the look you have envisioned, window shopping can be a big help.  Assuming you don't live within a subway ride to Tiffany's you can do this in several ways:
Look at magazines and holiday books (the public library has lots!) Don't forget Martha Stewart—I save my holiday issues for ideas. (www.marthastewart.com/holidays)
Visit the mall and high-end retail stores
Watch the home shopping networks
Browse online in decorating websites—home magazines have great ideas  (Input Christmas decorations into your favorite search engine to find an avalanche of web sites from which to choose)
Explore craft and decorating stores
You might want to keep a notebook of decorating ideas that you can pull out and browse for ideas each year. Some pictures of each year's end results will help you plan for the new décor.
You will probably discover that a luxury look is achieved with a controlled palate and style. Decide what those will be for your Christmas project.  Make sure that your colors and design fit into your overall décor.
Planning ahead
Before you start purchasing luxury decorations you need to answer some basic questions.
What are the components of the decorations?  Ribbons, wreaths, evergreen swags, ornaments, trees, garlands, lights, plants, pine cones, candles, live greens, … The list can be endless, so think about your available space and budget. One roll of beautiful velvet or satin ribbon can make a more luxurious impact than several rolls of inexpensive ribbons.
What is the desired look that makes it luxurious to you?
Can you achieve what you want with a few well-placed arrangements, or do you crave an all-over the house look?
Buy things ahead of the holidays
There are lots of decorative elements that can be purchased before Christmas starts to loom ahead. I buy bulbs to force for Christmas in the fall and put the pots in a small refrigerator in my garage. (Paper whites don't take months but do need some start time. Buy them at a good nursery, not the discount store.)  You can buy candles in your selected color all year as well. After-holiday sales, especially at craft stores, are great for this. Just don't forget where you stored all these treasures. (When a store goes out of business—which happens all too often—they sell their decorations at bargain prices.)
Set Aside the Time
Luxury Christmas decorating takes a bit of time. Don't wait till the day of the celebration to assemble and place all of the arrangements. It might be a good idea to set up a calendar showing each step will be done—don't forget that bringing all your decorating items from the attic or basement takes a lot of time. Chores that can be done ahead of actual decorating time include making bows, assembling wreaths, and collecting the baskets and other containers for greens.
Packing for next year
Luxury Christmas decorations are an investment that should be protected.
Plan ahead for your off season storage.
Obtain appropriate and safe containers before dismantling your displays. I have found that it is a huge time saver to use see-through containers. Red and green plastic boxes may look nice, but it can be frustrating to have to open everything to find what you want. This year's label may not be so illuminating next year.
Sort your decorations by type of item (ribbon, garlands, etc.), color, or grouped by the end display.
Label everything!  Chances are you will be busy again next year and may not remember what you have.
If you are not exhausted by just reading about planning for your Christmas look this year, get started right away. It's fun to develop new ideas, and wonderful to have your friends and family acknowledge your effort. Many of my Christmas visitors are amazed just that I have baskets of live greens with a bow.  That takes very little time and they smell great. (Keep them watered!)  Because I label my storage containers carefully I can find things quickly, and so keep the set-up time to a minimum.
Have Fun!
Connie Williams is an information junkie who lives to ferret out fascinating ideas for her readers. She writes blog posts on a variety of topics such as packing boxes. Growing up in a Pennsylvania German atmosphere, where commercial Christmas displays are essential, she has always loved Christmas and is always looking for new ways to decorate. She has planned her office Christmas decorations and uses them from year to year.
Related post:
Give a Hamper with a Heart This Christmas