A luxury Christmas hamper under the evergreen really does give you that magical feeling, wouldn't you agree? Want to save some pennies this festive season? Why not make your own Christmas hamper? Honestly, it's a cinch.
The homemade hampers exude the thought factor. And the beauty of making gift hampers for Christmas really shows you care. Aside from saving you a few pennies, the real advantage is you can make it as simple or as luxurious as you like.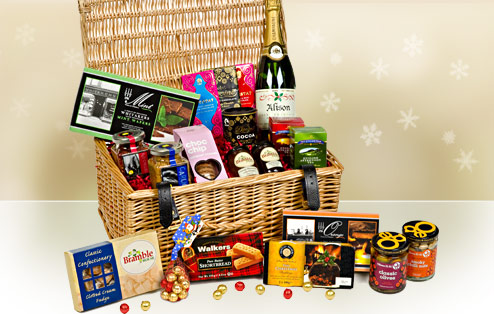 Here are some top tips for Christmas gift hampers success…
Buy a basket. Wicker baskets can be found in most garden centres, online and in some department stores. But it's worth scouring your local charity shops, too, as you can sometimes pick them up for little to nothing. You can also use a pretty plate in a cellophane wrap to present your gifts, or a nice tray – both of which also work as an extra special Christmas present.
Cheese please. If you're making luxury Christmas hampers for cheese lovers, then besides the brie, mozarella, cheddar and what have you, indulge them with a few goodies to go with it, such as crackers, red onion marmalade or chutney and perhaps a bottle of red wine.
Chocoholics. Know an insatiable chocolate lover? Keep them sated with a Christmas gift basket brimming with the sweet treats they love the most. How about putting your baking skills to the test and making them a chocolate cake? And who would say no to a box of milk chocolate truffles or peppermint creams? Or for those who love to bake their own chocolate delights, try adding a cupcake making kit.
Treat a tipple lover. If you know a tipple enthusiast, the best hamper ideas for Christmas would be those containing a bottle of their favourite tipple. You don't have to stick with the standard bottle. Personalised wine or spirits, complete with their name pus a special message, are sure to impress. Or try making your own mulled wine. Just add a Christmassy touch with oranges and spices.
Themed Christmas luxury hampers. Homemade hampers don't have to be filled just with food and drink – you can include anything you think the recipient will genuinely like and use. So if they're a green-fingered person, for example, you could include some liquid hand wash and moisturiser along with packets of seeds, a few bulbs for next spring, a new pair of gardening gloves and a gardening magazine. If someone's passionate about cooking, you could put together a hamper complete with unusual ingredients in line with their favourite cuisine, such as Thai, which they wouldn't normally have in their cupboards – along with a recipe book of dishes that use them.
Last but not least, luxury hampers for Christmas need to look good. Coloured cellophane gives a gorgeous, refined look to Christmas gift baskets. This is where a hairdryer comes in. No, seriously! For a professional finish, you can use a regular hairdryer to blow-dry shrink-wrap on to the basket. As a rule of the thumb, it's best to start from the bottom and work your way up to the top.
Line the bottom of your hamper with shredded paper. You can pick up this material from most art shops or if you have a shredder, do it yourself. Add some glamour by mixing in sequins and glitter for a truly festive feel.
Add some festive sparkle over your loved ones this Christmas with scrumptious personalised hampers from online gift shop, complete with all their festive favourites, from fudge, to personalised wine to luxury marmalades. In a few clicks and scrolls, you'll have bought a delicious Christmas hamper for someone special.