I wanted to pose this as a question: Is the design of your lunch box important to you? Sure, we all like aesthetically pleasing forms and designs, but is it really necessary to go for good looks? Well, the first thing that comes to mind is, that you have to differentiate between functional and aesthetic design. A lunchbox or bag can be very beautiful and have the most intricate embroidery and emblems, but still fail on getting the job done.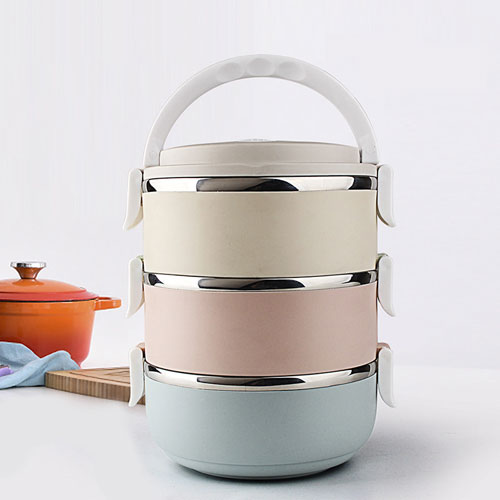 Take a Good Look At Lunch Box Design
Let's first focus on aesthetic designs. The first lunch boxes were launched in 1900, but it took a good 50 years until they became wanted collectors items. Many people remember their now vintage lunch boxes with joy. So many memories! At first, they were made of steel, very robust with colorful prints. The prints stayed, but since the 80s, most containers are now plastic. What a shame! You might ask yourself why i am talking about kids lunchboxes on this blog. See, for many adults looking back to their childhood is very important. Collecting vintage lunch boxes is one way to share in the nostalgia. Everything has become so difficult, so relaxing with the idea of a good time long ago in your mind feels really nice. There are many websites on the Internet focusing on these rare yet very beautiful lunchboxes.
In modern times, many people see their food containers as lifestyle accessories. Just take a look at the current tote bag trend. Especially people who are fashion confident are flocking to these products. They're relatively inexpensive yet very pleasing with intricate designs and details. One example is the Built Gourmet Getaway.Just imagine yourself walking through Manhattan with this beauty. Do you think people would turn their heads ? There are other examples of adult lunch boxes with special designs. They are made as a communication tool. They're helping you to make a statement, to show who you are, to make yourself visible to the world.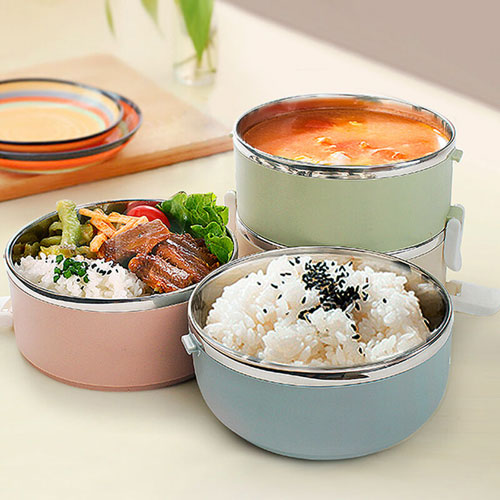 You do not care about design?
Wrong. You do. Your lunch box has to be functional, no? The most basic products might not be the best for everyone. Especially adults working in tough jobs like construction work do need tough containers. Forget about plastic – steel, here i come! Stanley is probably the most known brand with a lot of tradition behind. And the kit itself is very durable and robust as it can "survive" falling from an airplane. So it is basically unbreakable. If you are Japanese or want to enrich your lunch experience, you will find a bento lunch jar most functional. Designed like an oversized thermos it contains several containers suitable for soup, rice, fruit and vegetables. Keeping your food at the right temperature all the time.
To sum things up
Yes, design does matter! Beautiful vintage lunch boxes are valuable collectors items and are prone to provoke tearful nostalgia. You can also make a statement by choosing the "best looking" lunchbox. But in the end, functional design also counts. A simple sandwich container might not cut it for you. Why? You're not a kid anymore but a grown up with the needs of an adult….lunchbox wise.
Understanding the Zojirushi SL-JAE14 Bento Steel Lunch Jar
If you are searching for the best adult lunchbox to fit your needs, you have to look in different directions. Some classic lunch boxes might not provide you with necessary space to pack the food you want to eat during a workbreak. Let's face it: Sandwhiches are nice from time to time, but everyday the same makes everyone tired quickly. A Bento Style Lunch box allows you to get accustomed to the japanese way of eating lunch.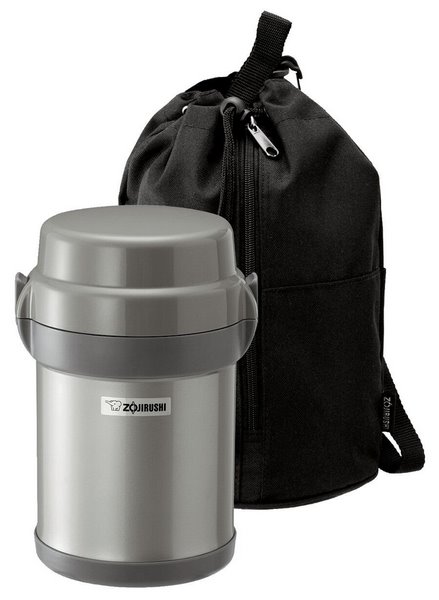 Just let me say this: They do not eat sandwhiches, so if you are looking to stack them high in your new box, the lunch box product may be not for you.
What IS that thing? A lunch box???
But lets start. The first time I saw the Zojirushi lunch jar I thought to myself "Wow, I can't even pronounce the name..what is this thing?". It looks very strange indeed. A bit like some oversized thermos or steel bottle. A bit like something out of a Sci-Fi movies. Surely, the lunch jar is something you will be seen with. Expect a lot of comments from coworkers and friends. But soon they will envy you for owning this bento lunch box. The reason lies in it's inside. YES, it is full of stars…
Inside the Bento Jar
Before understanding this magnificent product, we have to take into account the Japanese way of eating lunch. You probably already know that rice and soup are BIG in Japan. But how do they transport both? With a bento lunch jar of course. That is why there are several containers (4) inside the jar, you can fill up with lots of different foods. Traditionally, the bottom container is used for soup. It is sealed and well insulated. Just imagine eating steaming, hot soup in front of your coworkers. It can be vegetable soup, fish soup – you name it! It stays safe, hot and tasty inside the Zojirushi! The second larger container is used for rice. It is the biggest one, because you are going to fill yourself up with rice. Fights your hungry stomach effectively 🙂 You can also pour some of the soup over your rice to make it tastier. Or prepare the rice beforehand with vegetables or fish chunks. The two other, smaller containers are for entrees, desert or other smaller dishes. Salted pickles, berries, or fruit slices can be packed. You see, you get a foul 4 course meal in one small "bottle".
How the Zojirushi really works…
But it is so much more than a bottle! Because the containers are stacked, the different meals are always at the right temperature. Soup and rice stay warm/hot while the rest will be slightly above room temperature. Would you like to eat hot fruits? Me neither. This makes the Zojirushi bento style lunch jar very practical and it is surely the best solution if you want to eat great, healthy food every day at work! It is no wonder, they are well recieved at amazon (over 300 positive reviews!) because they promote your creativity and help you eating healthy. Bento lunch boxes are more than just a fad in my eyes. They are one of the new ways to eat today.
I hope that by now, you are as excited as i am about the Zojirushi lunch box.
It's unique!
Eat great food on the go!
Experience a new and exciting lifestyle!