Metal water bottle is a better alternative to plastic bottle. They are quickly gaining attention due to the durability, heat conductivity, and health benefits of a custom made bottle. If your considering purchasing a stronger, trendy, and healthier bottle you may want to follow these steps: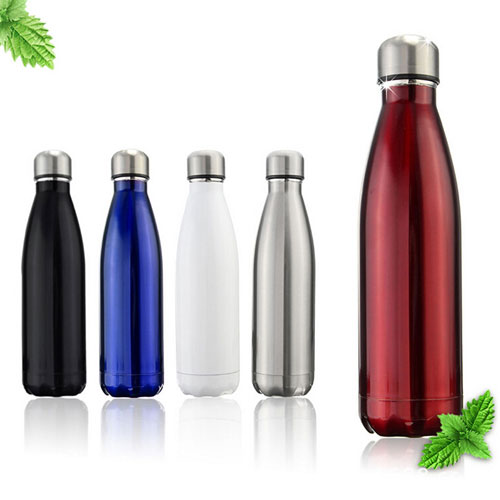 1- Take a look at Sigg aluminum metal bottle. Sigg produces a high tech, and high quality bottle that is designed specifically to take some bumps.
The inner lining of the bottle is a baked on polymer powder coating. This helps maintain the good taste of your water, as well prevents unhealthy chemicals from leaching in your water.
Sigg designs their aluminum water bottle in a variety of designs for you to choose from. If you decide to go with Sigg, make sure the inner lining is not plastic, and that the bottle is BPA free.
2- Klean Kanteen produces a food-grade stainless steel water bottle that hikers, bikers and regular day users find well priced. The Klean Kanteen water bottle, is toxin-free and another great alternative to plastic water bottles.
This bottle will also keep your water tasting fresh, with no metallic taste from the metal. This water bottle is designed to help clean easily, and maintaining it. If you don't mind the extra weight of the stainless steel, compared to the light weight aluminum bottle, this is a highly recommended metal water bottle to consider.
3- All bottles mentioned will help the environment and our landfills. The New Wave Enviro water bottle is another to consider. This water bottle is made of stainless steel, can hold up to 20 ounces of water, toxin-free, and environment friendly.
The New Wave Enviro bottle has some additional features that you may find convenient. They have a screw on top that will help for tighter seals, and they have a way to hook on your belt, bag, or any loop.
When deciding on which bottle to choose from, just know that anyone of those bottles will reduce the harm to the environment that plastic bottles provides. This is a small investment that will keep your water fresh and safe, as well save you money in the long run.
Stainless Steel Water Bottle Roundup
There are many brands to choose from when it comes to stainless steel water bottle. Let's break down the top brands and see which one is the real bargain.
The Top Brands Are:
Klean Kanteen
CamelBak
New Wave Enviro
Thinksport
Insulation: If your wanting to keep your drink cold and not have it condescend, CamelBak and Thinksport both come with insulation.
Lids/Cap Option: If your looking for a cap with with a hook feature to attach your water bottle to a gym bag, and on other days just want a basic sports cap then you should go with Klean Kanteen. They provide 6 different and unique types of covers to choose from.
Style: When it comes to style and appearance, CamelBak provides some sleek looking designs.Thinksport as well have some professional, and popular designs to pick from.
Bottle Sizes: The size of bottle you want may limit your options. Thinksport and CamelBak only have two sizes to choose from, while Klean Kanteen and New Wave Enviro both provide 4 different sizes.
Sippy Cup: Klean Kanteen carries this feature to make things easier for our children. For those who have children, you may consider this a great option as we know a sippy cup made of stainless steel can be quite handy .
Bite Valve: If your looking for a bite and straw system to prevent water from dripping on you when you tilt the bottle, CamelBak offers this system.
Bike Holders: A stainless steel water bottle makes perfect sense if your planning to bring it with you while your out biking. Klean Kanteen has this beneficial feature to all their bottles, other than their 40 ounce bottle.
Value: Prices depends on what model and size of bottle you choose from. For a 25-27 ounce bottle, you will be looking at the price range between $10 to $30.
All brands listed above have their own unique features, so it all really depends on what your looking for. Regardless to which product you go with, you will be making a significant difference to the environment, your health, and your wallet.
Related post: