Many people think of lunch boxes as small, fragile things made of plastic. Who doesn't know the famous Tupperware boxes with resealable lids? Or the colorful children products with print designs of popular cartoon character? Today i want to go back to the roots. This means: Metal. As a strong and health safe material, there is no reason not to consider a metal lunch box. Most adults are seeking a no-frills lunch or snack box. Here are some advantages and benefits of these metal lunchboxes.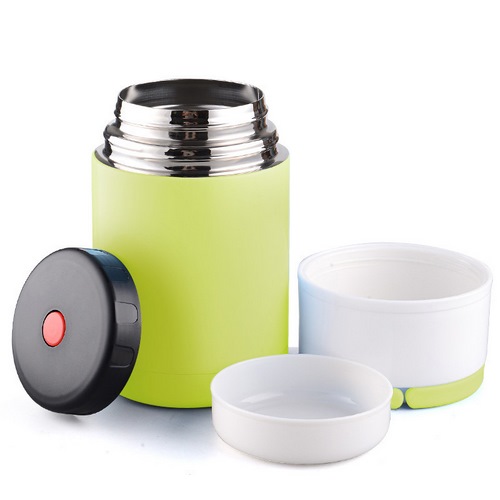 It's all in the material: Metal vs Plastic
Let's be honest: Plastic does have a lot of advantages. There is a reason why it has become so popular. It's very lightweight, disposable and cheap. This means that you can carry it around easily until it breaks or gets damaged in any other way. Then, you can just throw it away. I strongly disagree with this kind of lifestyle though. In my opinion, it is of paramount importance, to consider eco-friendly alternatives to single-use items. Our planet is bleeding and this is exactly why we have to control our resources. Each and everyone can play an important part. Buying a metal lunch container shows your commitment to living a green lifestyle. Because metal is usually a lot more durable than plastic, your box get's also a lot more mileage. And even if some tin cans get dents over the time – who cares? This gives character, just like scars 😉
Moreover, we all know how some cheap plastic containers tend to shrink, making it impossible to re-seal them. What a hassle! But whats worse, some of them tend to leach harmful chemicals: BPA, phthalate – you name it! I do not want to risk my health just because i was decided on a convenient, but dangerous product. What about you? Another thing i absolutely hate about plastic kitchen items of all kinds: They start to smell after a while. Onions, garlic, cheese….put them in your plastic container one time, and they're stained forever.
Metal Lunch Box rules!
Why? I have already spilled it out for you. Metal Containers can (!) be more sturdy, the do not de-form, they do not contaminate your food with toxic byproducts, they do not take 1000 years to decompose. But what i like most about them is their looks. There is a reason vintage lunch boxes are in such high demands. It's not only nostalgia. Owning a vintage food container also means to be reminded of a better time were everything was more…manly? Well, did you know that metal lunchboxes were banned in Florida in the early 1970s? The reason: They were used as weapons among kids and lead to serious head injuries. Wow, just wow. Fortunately, you are an adult now, and I'm sure you would not abuse them to steal your co-workers lunch, would you? 😉 So if you are seeking something simple, sturdy with a sleek design, try to look for metal lunchboxes as they might be your ticket to fame.
What adults choose….
The first product that comes to mind is the Stanley classic. This beast has been used for generations and it is still the awesome, manly lunch container your dad and granddad used to love. You grab it once and it will last you a very long time. It's insulated, you can use the lid as a tray – it even comes with a thermos. Fill it with water, soup or vodka – who cares! A couple of words about it's size: you can tell that Stanleys does know what grown ups crave and that is enough room to pack massive lunches. This container is also insulated and even if it says "hand wash" only, you can probably put it in the dishwasher. It's sturdy, durable..unbreakable! It has survived a 4,000 foot drop from a plane..you can run it over with your car. It gives no single shit. Go ahead and read the amazing amazon reviews here.
If you want something cheaper, more simple, take a look at the New Wave Enviro Stainless Steel Food Container. It's price is unbeatable, and there is room enough to pack a small lunch or some snacks for work. It's dishwater safe and does not stain. You have to be sure to pack only relatively dry food though. The New Wave Enviro does not seal well enough for something like soup. But you would want a thermos or metal lunch box for that anyways.
Related post:
Bento Boxes Help Kids Eat Their Food