We are on the verge of wireless charging that does not require the device to be charged to be touching the wireless charging pad or mat! Called "non-radiative magnetic resonance wireless power transfer", new innovations have created the potential for wireless charging pads to charge devices from a short distance! What will that mean for consumers in the market for a wireless charger, perhaps especially those who until now have resisted the technology?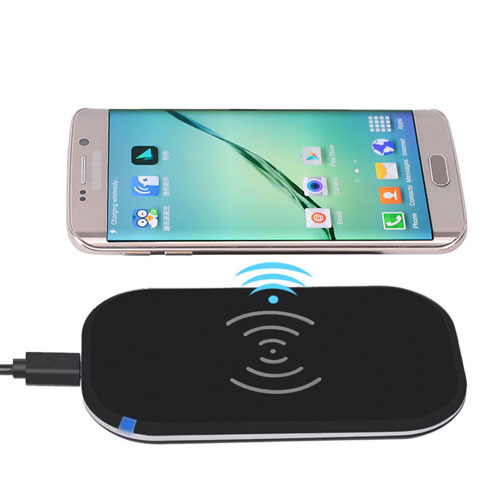 Now your smartphone or tablet or cell phone can still charge even if you don't place it perfectly, and even if something is between the charging mat and your device. It may also allow charging pads and mats to be smaller, reaching out to multiple devices and of course this wireless charging technology will allow charging of larger devices more easily – before they took up the whole charging pad and crowded out other devices.
Overview:
If you have multiple wireless devices you probably also have a clutter of chargers and wires. And somewhere in your home you try to keep it all straight with an outlet that has all the chargers plugged in for all these devices – cell phones, ipads, smart phones, etc. Invariably, however, these chargers will get mixed up, the wires will get tangled, or the area will just look like a giant mess.
Wireless charging mats and pads reduce the clutter, make things look better, and are much more functional. These power charging pads provide charging simply when you put your phones and other devices on top of the mat. There are not multiple wires necessary with a charging mat, just one wire connecting it to an outlet.
Most wireless chargers can power up to three devices at one time, and at the same time they look good – stylish and smooth. These charging mats come in home styles and travel styles, and there are even rumors of built-in styles for office desks and the possibility of hotels offering them as amenity. For anyone with multiple devices to charge, wireless chargers can be highly useful and effective. The elegant design of these products hides a powerful underlying effectiveness.
Types of Wireless Charger
There are primarily two types of charging pads and mats: home versions and travel versions. You may want to buy both types, but you may also be able to just buy one or the other, as follows:
Home Wireless Charging Mats and Pads: The home wireless charging pad is usually bigger and more stylish than it's travel cousin. This type of phone wireless charger usually looks like a dark mat with a outer rim. Under the charging pad is a rubber textured piece to keep it from sliding. In brief, home wireless charging pads are meant to be power stations that look good and are incredibly functional. The drawbacks to home wireless charging mats is that they are very much made to stay in one place where all your wireless charging will take place.
Travel Wireless Charging Mats and Pads: The travel phone charging mats are lighter and usually folded, often in a tri-fold design. Like it's cousin, the travel wireless chargers is usually black and has a rubber bottom. While the travel charging pad is a bit more bland, it usually comes with features such as a travel case and again is foldable so it is highly functional. Travel charging mats do not look as good as their home cousins and thus may not be for those who will usually do their wireless charging in one place.
These are the two types of product you can buy right now. You may find that some wireless chargers may provide a bit of a crossover – travel pads that look good at home or home pads that are portable. That said, right now most of the commercially available products are really made for one or the other use.
If you are in the market for a product now, we will help you be an informed consumer, and if you merely want to follow this exciting technology, we can be helpful with that as well. Wireless charging presents one example where the future is bright yet today's products are already quite advanced and helpful.
As of now, there are many devices available on the market with wireless features. Among them are including of bluetooth speaker and wireless surround sound speaker.