It can be easy for expectant mothers to feel frumpy or uncomfortable as their body changes and they experience common symptoms associated with pregnancy. Although it's often a time where women can become insecure, it's also the best time to give a great holiday gift that will help the mother stay fabulous before she delivers. A gift that complements her pregnancy will work in her favor and be something that is truly sentimental.
1. Pregnancy Pillow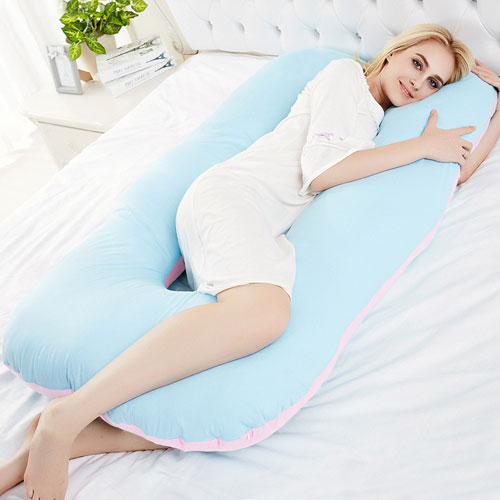 Any woman who has ever been pregnant can vouch that a full-body pregnancy pillow is essentially a lifesaver during the second and third trimesters for a way to stay comfortable while sleeping. Not only do pregnancy pillows provide support, but they come in different sizes and colors for a great way to support both the belly and body.
2. Terry Clog Slippers
One of the most common complaints that can be heard from pregnant women is when their feet begin to swell and are too large to fit into comfortable shoes or basic socks around the home. A great gift that will make her feel more at ease are terry clog slippers, which are lightweight and easy to slip on for a fit that's not too smug and will prevent her from having to walk around barefoot.
For the warmer months, terry clog slippers are breezy enough to prevent feet from sweating or becoming too hot in the product. Choose slippers with rubber soles for something that can be worn outdoors and will maintain their durability.
3. Maternity Leggings
Not only do maternity leggings create a slimming effect, but they also are extremely comfortable both on the legs and around the waist for a growing belly that can feel too stuffed in jeans. Maternity leggings also work to reduce swelling as they compress the skin and provide more mobility throughout the day.
4. The Belly Book
For any pregnant woman who wants to record every part of their changing body,
The Belly Book is a fun and creative pregnancy journal that makes it easy to write down each step of the process in a professional bound book. Not only will the gift be a sentimental one, but will provide a unique gift for a mom-to-be who can treasure her experience for many years to come.
5. Maxi Skirt
One of the most trendy clothing items in the last year for has been maxi skirts that work to provide a comfortable fit for any size. Maxi skirts will keep the pregnant mom-to-be looking fashionable throughout her pregnancy as the skirt can be paired with scarves, casual flannel shirts, and even decorative blouses for a look that can either be casual or semi-formal.
When giving the perfect gift during the holiday season to a pregnant mother, anything that allows her to feel more comfortable and confident is appropriate and will be appreciated for a gift she can enjoy until her baby arrives. Whether allowing her to show off her curves in a feminine maxi skirt or helping her to enjoy every moment of her pregnancy with a sentimental journal, she'll appreciate the thought of the gift that is sure to make her pregnancy more enjoyable.
Opal Burke is a fashion writer with a passion for maternity fashion & style. For more great fashion tips, Opal recommends checking out her favorite blog at http://www.wendyslookbook.com/.