According to Bride Magazine, around 60% of weddings have children in attendance which means that 40% do not. Just 20 or so years ago the idea of excluding children at weddings would have been scandalous but now it seems that the happy couple want to keep their wedding day as an adult only occasion. Yet children bring joy, laughter and adorability to weddings (not to mention the inevitable clips for humorous home video shows) and for the bride and groom willing to include them in the day, they make for excellent flower girls and page boys. Here's our guide on having children at your wedding.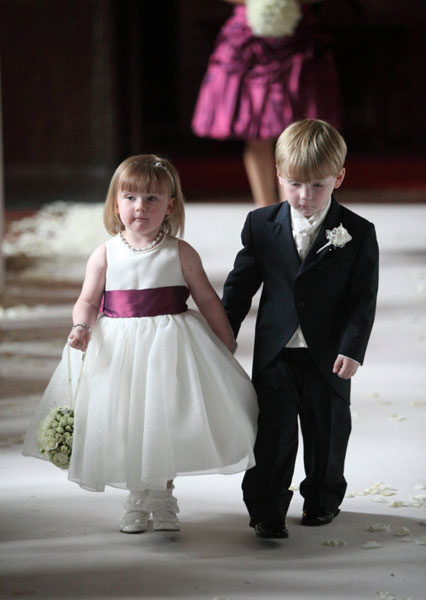 Bridesmaids and Flower Girls
Older children would love the honour of being a bridesmaid and it's a role they can be trusted to take seriously and gain great delight from. Typical bridesmaid choices are nieces, the couple's own daughters if they have any, cousins and god-daughters. If you find you have quite a list of candidates then stick to close family members only.
Choosing your flower girl can be a little trickier. This role is usually given to a very young member of the family and it does entail a bit more responsibility than a bridesmaid so you need to bear this in mind when making your choice.
The role of the flower girl is to walk either ahead of the bridesmaids or behind them with a basket full of petals that she scatters on the aisle.
There is no rule in place that says you can only have one flower girl, so don't feel restricted in your choice; however it might be an idea to avoid picking someone too young as they may feel overwhelmed by the occasion and refuse to perform on the day. Actually choosing more than one flower girl may ease the anxiety for the children and ensure that you are not short of a flower girl should anything go wrong.
It's important that you explain the role fully to the flower girl and let her practice a few times before she commits herself. It might also be an idea to ask one of the bridesmaids to "buddy up" with her so they can check that she's ok before the service and prompt her if needs be.
Remember when you are working with children things can go wrong so your best bet is to just go with it. If she has a tantrum, trips over, dumps her basket on the ground or bursts into tears it's not the end of the world. Most guests will be charmed by her anyway and it's always the things that go wrong which makes it more memorable and a talking point for years to come.
At the end of the ceremony it's always nice to acknowledge your little bridesmaids and flower girls with a token of thanks. They will then feel that their efforts have been appreciated and it helps to make them feel special. Personalised flower girl gifts such as bracelets, mugs and even teddy bears are bound to bring a smile to their faces!
Page Boys
Page boys are generally aged from 4 to around 10 years of age with older boys given roles as Wedding Ushers. Unfortunately not many weddings have more than one page boy in attendance so you may have to be quite diplomatic with your choice.
Depending on who you have chosen as your page boy, the role can vary accordingly. Sensible boys who are not prone to attacks of nerves or giddiness can be given the honour of bearing the rings to the Best Man or for a less stressful role he can walk up behind the bride carrying her train instead. You can discuss this with the boy and his parents to decide which role would best suit him.
As with the flower girls, remember that nerves can get the better of anyone at weddings – even the bride and groom – so don't expect too much from your little man. Rehearse the day with him a couple of times but make sure he isn't put under too much pressure or you may have a pouter on the day.
If both children are willing, the page boy can lead the wedding procession down the aisle after the ceremony holding the hand of the flower girl as this makes for a great photo opportunity and adds that element of pure cuteness to the proceedings!
Such an important role is surely deserving of a suitable gift of thanks? As with the flower girl, you don't have to go mad on page boy gifts, it's enough for them to know that you were proud of them and any memento they receive will be greatly treasured. Personalised page boy gifts such as a half pint tankard (how cute is that?), a jar of sweets, a mug or even a page boy moneybox are just perfect for saying 'thank you'.
Children bring a real sense of fun to any wedding so make sure that your child stars feel truly treasured with some personalised wedding gifts.
Related post:
Planning Your Dream Wedding On A Budget