If you've found yourself invited to a christening one of the first things you'll start thinking about is what gift you could get for the baby. Whether you're a close friend of the family or a more distant acquaintance you'll have a budget in mind. Sticking to that budget can be difficult, especially when traditional christening gifts are often made from silver – hardly the cheapest material around.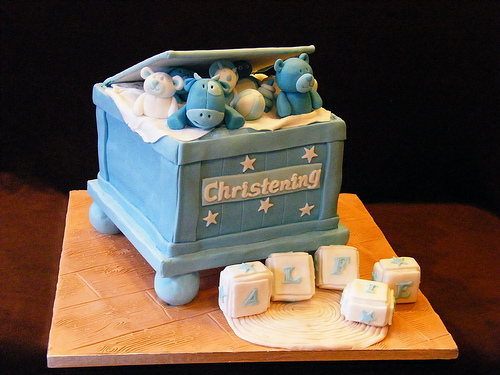 Use Your Imagination
But finding a suitable christening gift on a budget is possible if you just use your imagination and try to make the gift special for the child. One idea is a personalised bible. If someone else has already bought a beautifully bound bible you could always get a bible designed for young children. If such a religious gift isn't appropriate a children's encyclopaedia is a good alternative.
Avoid Duplicate Gifts
The problem with getting a bible or encyclopaedia is that since there are so many people buying christening gifts you run the risk of getting a similar item to someone else. If you're on a tight budget it's likely their version of the christening gift may be more impressive. Avoid the chances of this by getting something more unique. A baby casting kit is a great idea, and if you're close enough to the family you could do the casting yourself, which would be a great surprise for the parents.
Keep It Personal
Again, if you're close enough to the family you've probably got plenty of pictures of the baby. Getting some of these printed and making a photo album is a great christening gift because today so many people rely solely on digital photos. Or you could get a digital photo frame – some are surprisingly cheap – preloaded with baby snaps. Although it migt seem a bit dated, there really is nothing like sifting through old photograph albums and reminiscing.
Traditional Silver Gifts
If you absolutely have to have a traditional christening gift made from silver make sure you shop around – you may be able to find some good deals. Antique shops may also be full of hidden treasures that make the perfect christening gift. While you might not want to spend too much on a christening gift, bear in mind that a christening is a very important ceremony for many families, and while the child will have many, many birthdays, they will only be christened once. There are plenty of specialist stores online where you'll find plenty of different christening gifts to choose from.
Thanks to James P from Edinburgh Silver for providing us with this post.
Related post:
Gifts To Buy Parents And Baby For A Christening