My wife is one of those super-women that does everything for everybody in the house all the time. I'm not joking, it's ridiculous how much she can accomplish in a single day. She starts her day by getting two pre-teen girls and a young boy out the door with breakfast in their bellies and lunches in their hands. She then works a full-time job in an accounting firm. At the end of the day, she's typically driving from one side of town to the next for clarinet lessons, dance class, soccer, Cub Scouts, groceries, dry cleaning, school art project supplies… the list goes on and on. And, on top of everything she does in the hours after school, she still manages to get a decent meal on the table five nights a week. (Because weekends are for leftovers and, occasionally, a pizza or two, don't you know!)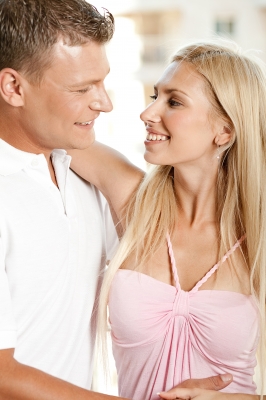 I'm lucky that my wife is so dedicated to our family.
My wife is constantly running, constantly doing. And, since my sales job has me on the road three to four days a week, I feel genuinely lucky that she's so dedicated to the family. I honestly don't know how she does it all, but I never let a day go by where I don't tell her exactly how I feel about all the help she gives us. I'm a lucky man. But there is a drawback!
I pride myself on finding gifts that are different and special for her.
When you're married to superwoman, you tend to look at gifts for birthdays, anniversaries, Valentine's Day, and other special events with a discerning eye for quality and uniqueness. I'm not the best gift giver in the world, but I really try to put some effort into finding things that are different and special. I've come to understand that flowers are always great, especially when they're a total surprise (meaning when they're given for no particular reason). Candy, however, is a big no-no in our house. My wife is constantly battling skin problems. Don't get me wrong, I think she has beautiful skin – the kind of healthy, glowing skin that doesn't seem to need makeup at all. But, she thinks otherwise. Little blemishes pop up from time to time and she finds them really disappointing. She's never sought the help of a dermatologist, though. She once told me that she thought seeking "professional help" from a dermatologist was more help than she needed. Still, she hasn't taken the time to find a skincare consultant to help her address her issues with redness in the face or frustrating skin eruptions. And, this may be due to the simple fact that she doesn't have the time.
So, I decided to find a solution for her and see if she'd take the chance.
Now, it must be stated that I'm a guy who knows nothing about skincare or makeup or facial rejuvenation. But, it didn't take long to find a skincare center in the Greater Kansas City Area that did all those things and more. I found a face and skin center in Prairie Village, Kansas (not too far from our place in Olathe) through a simple web search. I honestly didn't know what my wife would want in a skincare consultation or a makeup session, but it was clear that she could have her pick of any one of a number of treatments and consultations with a single appointment. In the end, I surprised my wife with a gift certificate that she could use for any procedure on the menu. She was quite surprised. Score one for the husband again.
Phil enjoys writing about the great gifts he gives his very special wife, and she thoroughly enjoyed the consultation she received from Vargas Face and Skin.
Related post:
Tips For Compiling A Gift Pack For A 30-Year Old